Our half-day Ocean Industries seminar was organized at DNB in Solheimsviken, Bergen on 15. March 2018.
The event started with a networking lunch hosted by DNB, followed by the seminar where the speakers were given just 10 minutes each to present their views, which resulted in crisp and clear points – throughout the day. The event was concluded with a networking reception hosted by Embassy of India -with Indian food and refreshments.
See the presentations held at the seminar at the end of the article…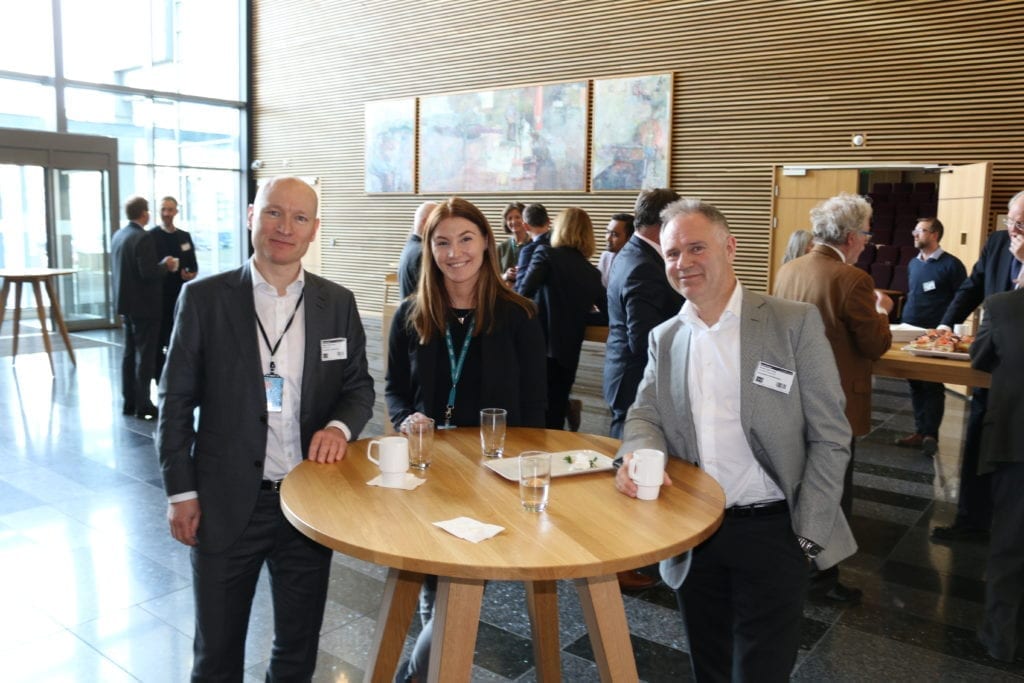 A special thanks to H.E. Ann Ollestad, Consul General Royal Norwegian Consulate General Mumbai and H.E. Debraj Pradhan, Ambassador of India to Norway – for taking time to be with us in Bergen and to give valuable input to the participants.
Thanks a lot to our co-organizers for making it possible to organize this event.
Thanks to DNB for hosting the event at their Bergen office, assuring absolutely everything went acording to plan. Thanks to Embassy of India for hosting the networking reception after the seminar. We also want to thank RCN, MFA and NHO for co-organizing, promoting and participating in the event.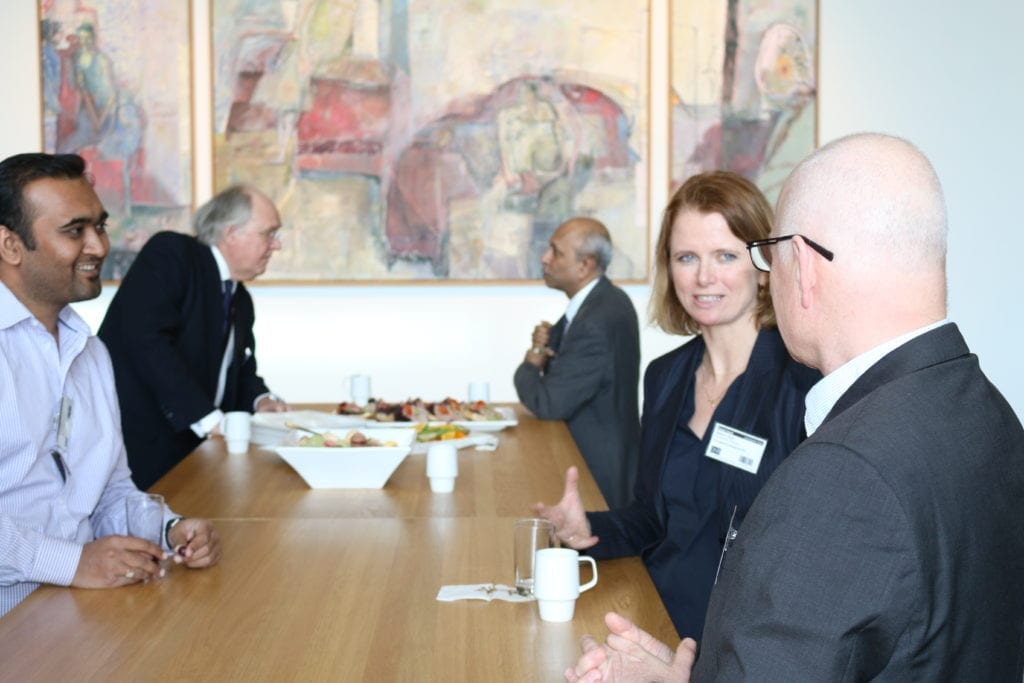 Meet the speakers of the event
Katrine Trovik, Head of Division – Corporate banking in DNB
DNB was one of the initiators and founding members of NICCI and have had representation in the board for many years after the establishment. Katrine Trovik as Head of Division, corporate banking in Hordaland, Sogn og Fjordane, Møre og Romsdal is definitely heading the region that is in the core of ocean industries.
H.E. Debraj Pradhan, Ambassador of India to Norway
Ambassador Pradan has for the last two years been a very active supporter of our events and activitites to promote Norway-India business.
H.E. Ann Ollestad, Consul General Royal Norwegian Consulate General Mumbai
Read her full speech here…
The Consulate General in Mumbai was established in 2015 to strengthen Indo-Norwegian cooperation and promote Norwegian interests in (the costal) states Maharashtra, Gujarat and Goa.
Hilde Aarefjord, Project Manager in Standards Norway
Hilde is a Marine biologist from the University of Oslo and has worked in Standards Norway for several years, developing standards for fisheries and aquaculture. Standards Norway (SN) is one out of three standardisation bodies in Norway and responsible for standardisation activities in all areas except the electrotechnical field and the telecommunications field.
Johan H. Williams, Policy Director Fisheries and Aquaculture, Ministry of Trade, Industry and Fisheries and Chair ISO TC234 Fisheries and Aquaculture
Johan H. Williams has extensive experience in the fishing industry. From 1980 – 1988 he served in three different positions with the Norwegian Agency for Development Cooperation NORAD, and was Fisheries Counselor to the Nordic Council of Ministers in Copenhagen, Denmark from 1988 – 1994. He has been a consultant to many organizations and countries.
Merethe Sandberg Moe, Senior Advisor The Norwegian Reseach Council
Responsible for Research cooperation with India (INDNOR) and will throw light on relevant programs in bioeconomy and oceans
Tim de Haas, SVP Business Development Asia & New Markets in Aker Biomarine
6 years management consulting experiences and 6 years international business development experiences in health care / pharma industry. Has worked 8 years in Aker Biomarine with Business Development focusing on: – New Market Entries, – Innovative Concepts for existing and new products and markets, and Customer focused solution and product development
Even Hopland, COO Business Development in Sekkingstad
Sekkingstad AS is a family company with a long history and strong roots within the production, sales and marketing of seafood. Located outside Bergen, on the west coast of Norway. Supplier of salmon and trout in all sizes, whole, value added, fresh and frozen. Specialist in air-freighted salmon and trout. Yearly sales of approx. 50.000 tons (wfe) salmon and trout. Weekly deliveries to regular customer all over the world.
Hege Økland, CEO in NCE Maritime CleanTech
CEO at NCE Maritime CleanTech that uses the Norwegian maritime expertise, as a springboard for the development of new energy-efficient and environmental friendly technologies. The company cluster focus on establishing sustainable innovation projects with commercial potential, and work together for new clean maritime solutions.
Jon Rysst, Regional Manager DNV GL Maritime North Europe in DNVGL
He is educated from NTH (now NTNU) in Trondheim Norway and holds a M.Sc. degree in Marine Engineering. He has worked in the maritime and offshore industry all his career. He has held management positions in DNV GL since 1995 both in Norway and abroad. His latest position outside Norway was as regional manager for Korea and Japan. Before he started to work for DNV GL he held positions in an engineering company and in The Norwegian Maritime Research Institute. He has a relation to India as he spent two years in Mumbai with his family when he was a child and from several private trips to the country.
Yrjar Garshol, VP Marketing in Rolls Royce Marine
Rolls-Royce has supplied major equipment on more than 180 vessels with 60 Indian Ship Owners/Oil companies. Presently they have 160 vessels under construction at Indian Shipyards.
Gunnar Buvik, Business Development Manager in GCE Subsea
Gunnar Buvik is Business Development Manager in GCE Subsea with a special responsibility for Ocean Innovation, Entrepreneurship and Business Development, Market and Work Processes. He has long and varied management experience from different industry sectors, including ten years in the Oil and Gas supplier industry.
Ulf Abrahamsen, Workshare Brownfield Global Mandate, Aker Solutions
He joined Aker in 1994 and have held various positions as Quality Manager, Engineering Manager and Project Manager in projects in Norway and internationally. In addition he has been engaged as Project Manager at corporate headquarters in Oslo. He spent 4 years in India building up Aker brownfield activities in Mumbai. His work has also taken him 4 years to Saudi Arabia (Norconsult), and recently 4 years in the UK and South Korea in greenfield oil development projects. Currently he holds the Global Mandate for Workshare Brownfield; how Aker Solutions share work and engineering capacity between countries.
Espen Wøien, Vice President Software Development in Kongsberg Digital
Espen Wøien is Vice President Software Development in KONGSBERG DIGITAL, part of Kongsberg Gruppen. He is responsible for software development in Kongsberg Digital and is also a board member of Kongsberg Digital India.
Marie Tveit and Magdalena Støldal, Senior Advisors Trade & Export Solutions DNB
Marie Tveit and Magdalena Støldal is part of Transaction Banking division in DNB working with trade and export solutions for corporate clients in all business segments. They have long experience working with international trade and work closely with all DNB's units in Norway and international as well as export credit agencies worldwide .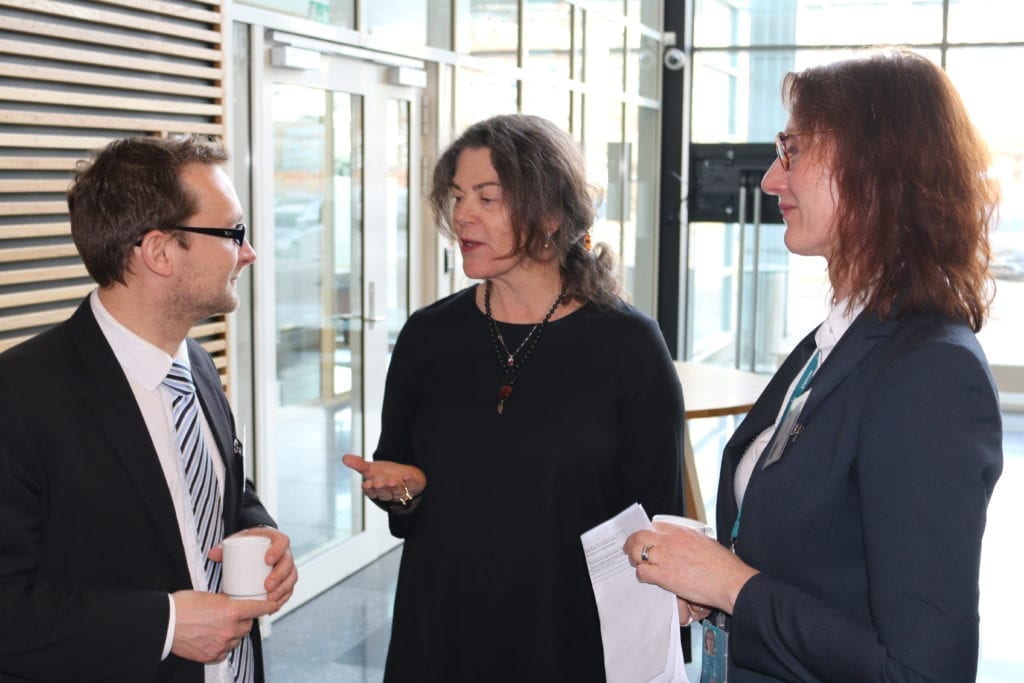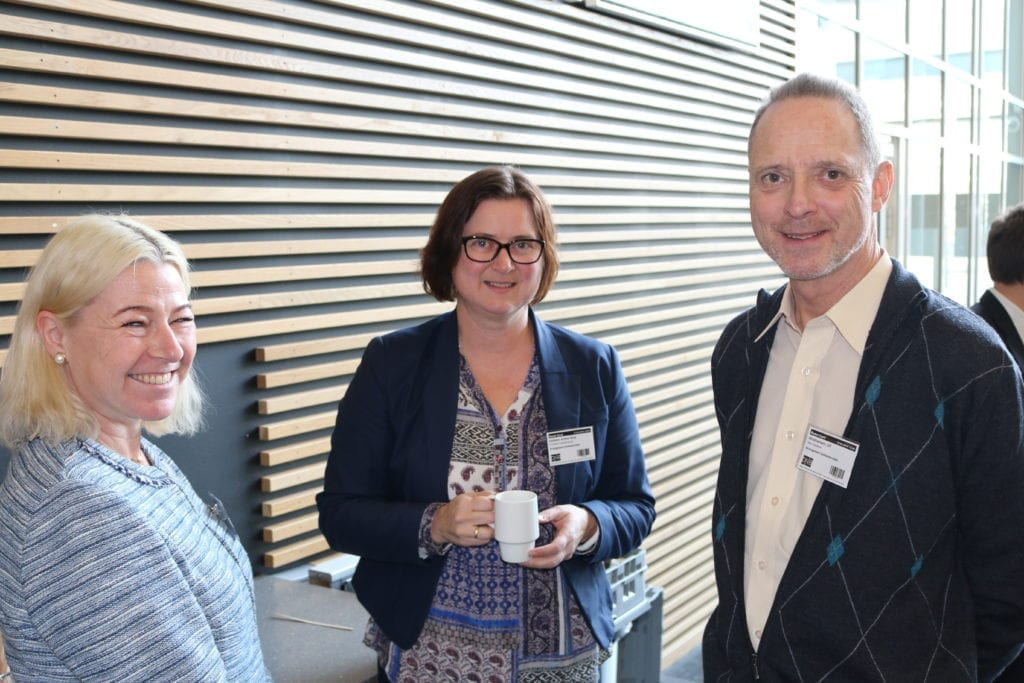 Presentations from the seminar
Hilde Aareford Standards Norway presentation
Marie Tveit and Magdalena Støldal – DNB
Yrjar Garshol – Rolls Royce Marine
Hege Økland -NCE Maritim Cleantech
Johan H Williams – Ministry of Trade, Industry and Fisheries