Introducing «Speed-Business-Meetings» at the NICCI member meeting 30. August at 14:00.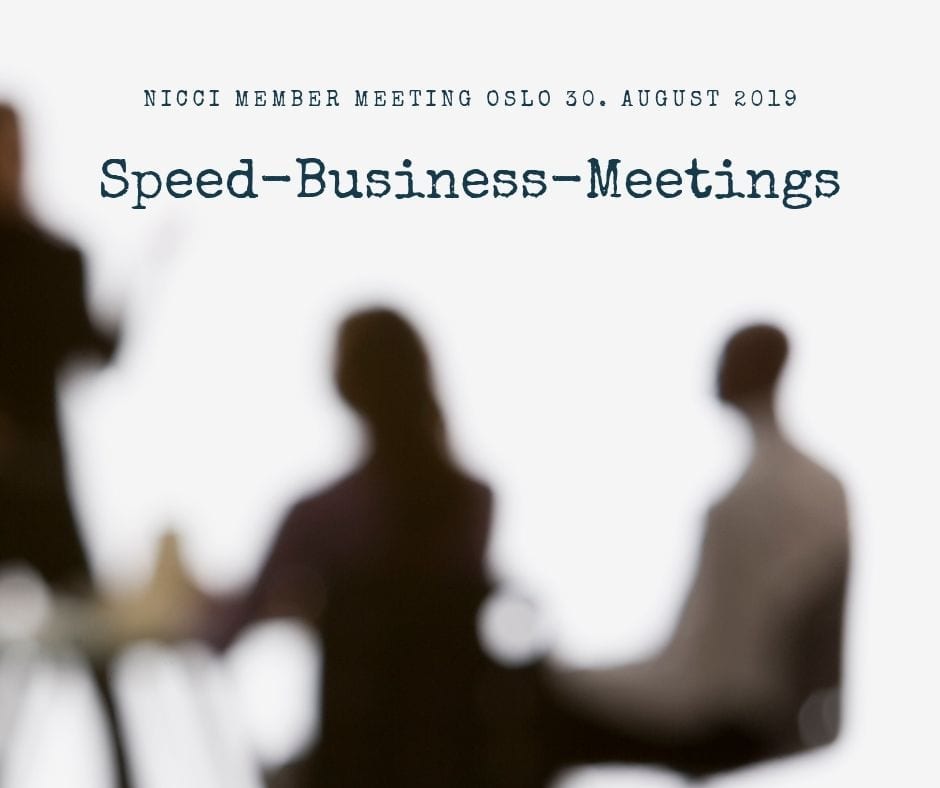 We want to kickstart this season by accelerating your business contacts. As a NICCI member we invite you to our first Speed-Business-Meeting. In just one hour you will have quick meetings with up to 8 people with relevant roles in Norway-India Business. This effective networking format will introduce you to new connections and hopefully identify synergies and long term collaborations.
Confirmed persons to our panel – that you will have speed-meetings with on Friday:
Maja Vikan, Board member NICCI / Adviser SEEMA AS
Especially eager to talk about how to release the potential in diverse teams.
Ann Ollestad, Consul General at Royal Norwegian Consul General Mumbai.
Merethe Sandberg Moe, Senior Adviser, Research Council of Norway. Programme coordinator Research cooperation with India.
Helge Tryti, Country Director Innovation Norway – India. Eager to talk about vast opportunities for Norwegian companies in India.
Baard Hjelde, Special Representative for India, Norwegian Ministry of Foreign Affairs.
Ranjan Naik, Blue Economy Hub, Representative for – and very interested to update you on the the event «Vibrant Goa» organized in India October 2019.
Trond Skundberg, General Manager NICCI, Co-Founder Nordic Hub India. Interested to hear your suggestions on how NICCI can become even more relevant for members.
If you are in India-Norway business, we believe this is a relevant group of people to know and to touch base with regularly.
The 2 last names will be updated soon.
To ensure the best possible environment for networking and improvised meetings, we have several meeting rooms available for you as a NICCI member this day, for a more quiet sit-down discussion.
Post the speed-meetings we invite you to join us for more networking at the Friday mingle with other chambers of commerce and international business people @ International House in Oscars gate. We will provide some snacks and refreshments, and you are welcome to bring your own for the table.
Join us to kickstart the season and start the weekend together by expanding your Norway-India business network. We look forward to see you in Oscars gate 27 on Friday 30. August
Program
14.00-15.00 Speed-Business-Meetings exclusively for NICCI members. Registration in advance is required. Click here to register now
15.00 Mingling/snacks/refreshments (until around 17.00) Drop in any time. Registration not required.