At the plenary session of the high level business seminar at NHO, the President of India, Mr. Pranab Mukherjee congratulated NICCI along with other stakeholders for their continuous efforts to boost bilateral trade and investments between Norway and India.
'It was the perfect sound of a business day' (quoting CNN anchor Richard Quest) and, it couldn't get bigger and better than this! On his maiden trip to Norway, His Excellency, the President of India Mr. Pranab Mukherjee attended a high-level business summit accompanied by the Union Minister of State for Heavy Industries and Public Enterprises Pon Radhakrishnan and a delegation consisting of Members of Parliament, educationists and around 50 top-level business emissaries at the office of the Confederation of Norwegian Enterprise (NHO) on October 14th, 2014.
The conference was co-organized by NHO, the Research Council and the Centre for International Cooperation in Education (SIU).
The business part of the conference was organized in cooperation with Norway India Chamber of Commerce and Industry (NICCI) along with the Confederation of Indian Industry (CII), Federation of Indian Chambers of Commerce and Industry (FICCI) and the Associated Chambers Of Commerce and Industry of India (ASSOCHAM).
President Mukherjee congratulated NICCI and other stakeholders
Addressing a gathering of some of the biggest names from both Norwegian and Indian industry, His Excellency President Pranab Mukherjee lauded the efforts of NICCI and other partners to build stronger business relations between India and Norway, "I must congratulate Norway's Trade & Industry Minister, Ms. Monica Mæland, CII, NHO and NICCI who are working together in close cooperation with both governments to boost bilateral trade and investments.
I am confident that the dedicated efforts of all stake holders shall redefine and re-invigorate the economic and trade relations between our two great nations," he said.
13 agreements signed between Oslo and Delhi
It was a momentous day in the history of Norway-India business relations. Around 13 memorandums were signed between the two countries. Mr. Mukherjee expressed his happiness over signing of Memorandum of Understandings (MoUs) in various crucial areas including one on diplomatic visa waivers between the two countries.
Norway will soon feature in the list of a few countries whose nationals can get Visa on Arrival (VoA) facility in India.
Join the "Make in India" campaign, President says to Norwegian companies
Join the "Make in India" initiative of the new Indian government was the message from President Pranab Mukherjee to Norwegian companies as he invited investors and entrepreneurs to explore possibilities of investment in India's infrastructure sector.
"India has embarked on an ambitious 'Make in India' program to make the country an investor-friendly destination by setting up single window clearances, e-Business portals and Investor Facilitation Cells.
I am confident that Norwegian investors shall take optimum advantage of the new policies unveiled," he said.
NICCI will continuously work towards building relationship
Rina Sunder, Chairperson, NICCI was optimistic about a new thrust to the Norway-India business relations. "This is a stupendous feat for all of us who are continuously working towards building invigorating trade and business relations between Norway and India.
With this, we have built a robust relationship with CII, FICCI and ASSOCHAM. I am confident that this will be a fruitful foundation for further co-operation between India and Norway."
Referring to Ajay Bakshi, Managing Director & CEO, Manipal Health Enterprises who was also the leader of the business delegation from India, she said, 'Mr. Bakshi has set the ball rolling for us. That is from where we need to pick up." Speaking on the occasion, Mr. Bakshi drew an interesting comparison between the young population of India and a large section of old population in Norway in need of better healthcare.
The Chairman of Telenor spoke about three lessons learnt in India
Highlighting the stronger business partnership between and Norway and India, Svein Aaser, Chairman of the Board of Telenor addressed the esteemed gathering and said, "India has emerged as a valuable partner and destination for IT investments." He also pointed out the three important lessons he learnt from his constant partnership with India.
The first lesson, was that "India is the most competitive market in the world and that has forced us to seek learning in terms of technology, cost efficiency and the way they engage with customers.
The second lesson is about partnership and its benefits." He made a mention about their partnership with Wipro, one of the largest information technology, consulting and outsourcing companies in India.
And, "the third and the finest lesson is about the people. We have been impressed by the talent pool that we have found in India for their skills and their competitive mindset," he added.
Minister of Trade and Industry, Norway to support and expand partnership between India and Norway
Present on the occasion, Monica Mæland, Minister of Trade and Industry, Norway, and Torbjorn Roe Isaksen, Minister of Education and Research, Norway emphasized on the importance of engaging with India for both business and academic partnerships. Addressing the gathering, Monica Mæland, Minister of Trade and Industry, Norway expressed her willingness to "support and expand partnership between India and Norway. She said, "Already a number of Norwegian businesses are present in India. Telenor in telecom, Statkraft in renewable energy, DNB in banking and finance and many more.
My highest priority in our partnership with India is a further increase in trade and investment. Norway is ready to offer India far better conditions than we have done with any other free trade partners."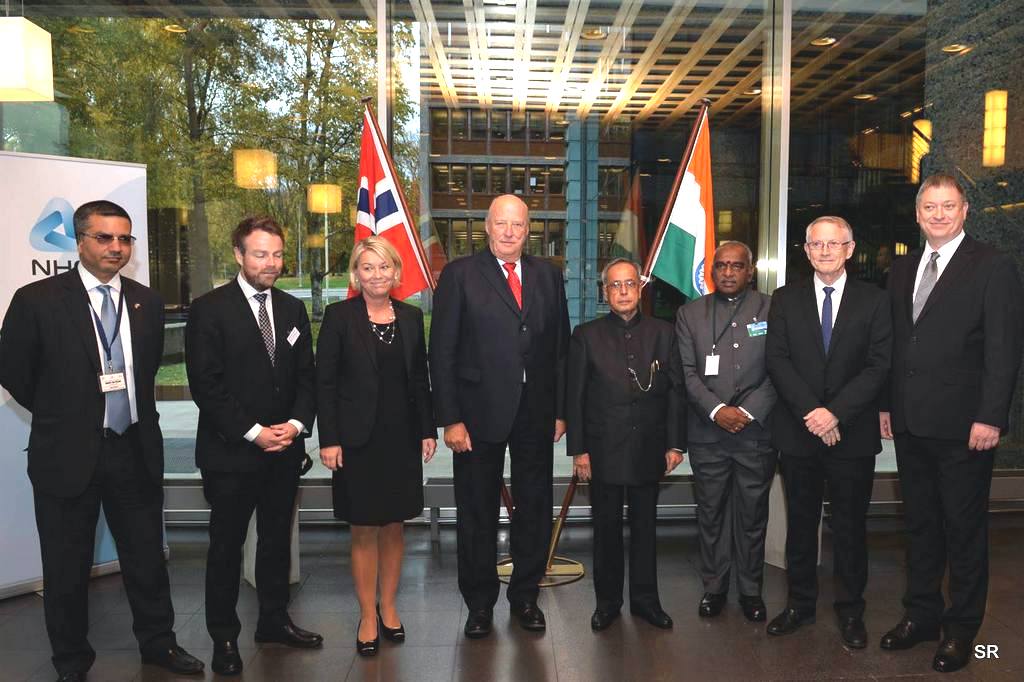 The welcome address for the plenary session was given by Tore Ulstein, President of NHO where-in he offered an excellent platform for new partnerships between India and Norway to commence. The summit concluded with parallel sectorial roundtables on five important sectors:
a) oil, gas and maritime
b) renewable energy
c) seafood
d) ICT and healthcare, and,
e) Manufacturing trade and services.
Rina Sunder summed up the whole summit for us when she said, 'A momentum is created by the follow-up with the largest delegation that has come to Norway. The red carpet has to be continuously rolled out. NICCI will continuously work towards building stronger business and trade relationship between Norway and India."
Written by: Sudipa Chakraborty
See more articles from the state visit and business delegation