Breakfast meeting in Oslo 27. March 2019. Our expert panel Guro Samuelsen, Lars Tore Flåten, Kenneth Bo Nielsen and Arild Engelsen Ruud – are all ready to get us up to speed on the most exciting issues ahead of the upcoming General Election in India.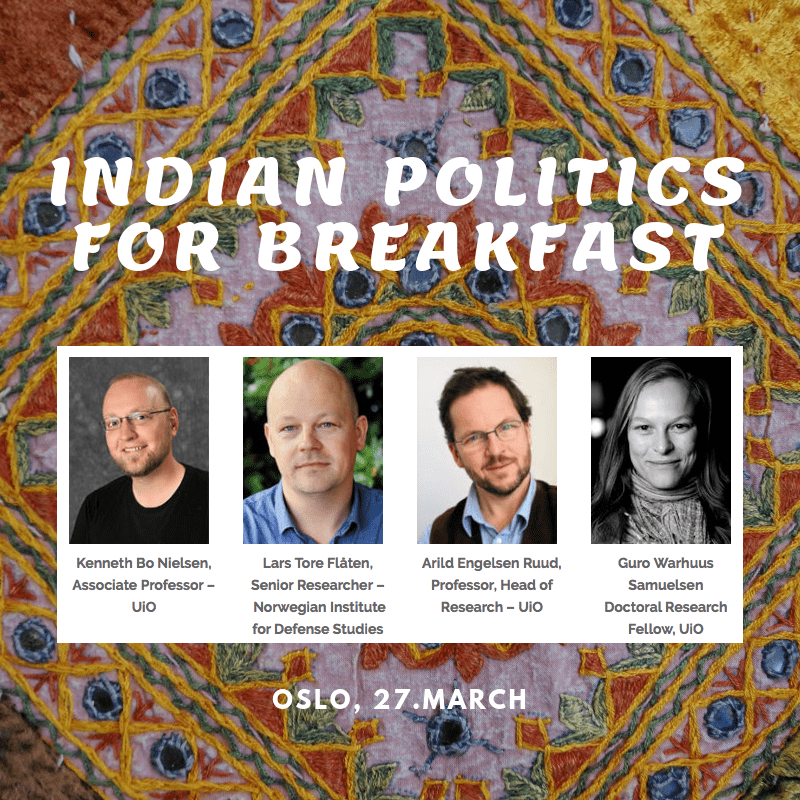 General elections are due to be held in India from 11. April 2019 to constitute the 17th Lok Sabha.
Time: 27. March 08.30 – 10.30
Place: Litteraturhuset, Wergelandsveien 29, Oslo
Mingling and light breakfast from 08.30 – 09.00
The program starts sharp 09.00
Panel/topics:
Guro Samuelsen: "Modi Magic"
Lars Tore Flåten: "Modi's foreign policy heritage"
Kenneth Bo Nielsen: "New possibilities for the opposition?"

Moderated by Arild Engelsen Ruud

Do not miss this exclusive opportunity to get updated on the Indian political scene just 2 weeks ahead of the General elections.