See the program, speakers and panelists.
Networking lunch, plenum session, 3 industry breakouts. After the seminar, join us for mingling snacks and drinks!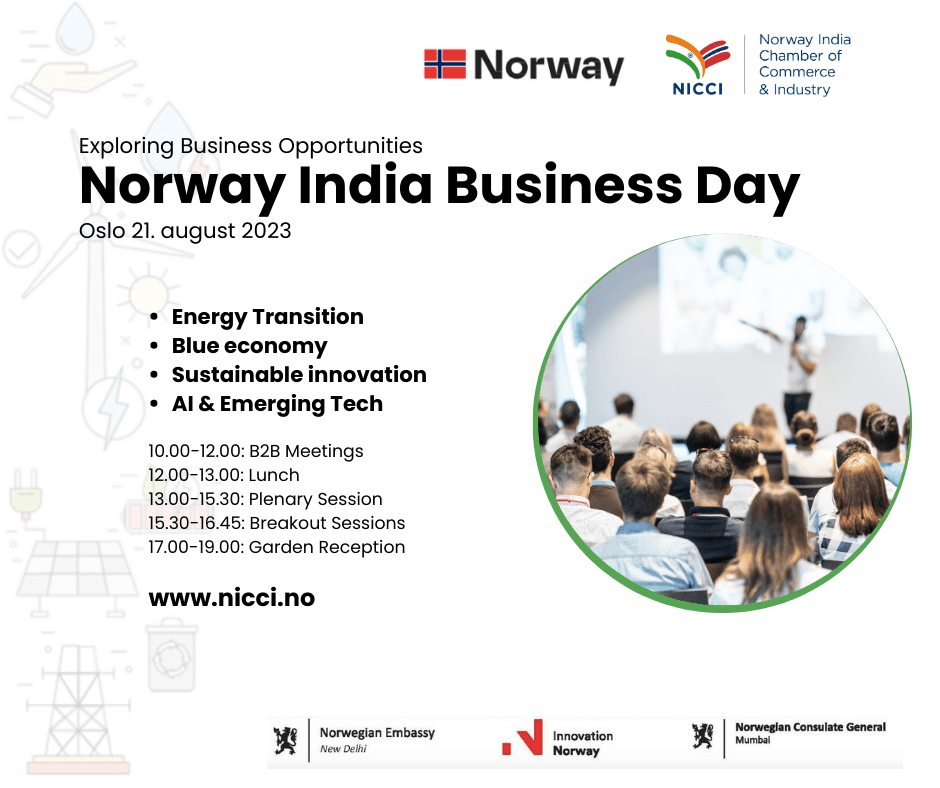 Focus areas:
Clean Energy
Blue Economy,
AI and Emerging technologies
The Future of Sustainable Innovation


"Norway India Business day" is organized at Litteraturhuset, Oslo – followed by Garden mingling.
10.00-12.00: B2B Meetings (optional)
12.00-13.00: Lunch
13.00-15.00: Plenary Session
15.15-16.45: Breakout Sessions (Energy transition, Aquaculture and Innovation/AI/Emerging tech)
17.00-19.00: Garden mingling with snacks and drinks
India is expected to be among the top three economic powers in the world over the next decade, backed by policy initiatives and strategic partnerships. The Country aims to achieve net zero carbon emissions by 2070 and to meet 50% of its electricity needs from renewable sources by 2030. Norway can and should aim to be an obvious partner in this green transition and exciting emerging technologies.
Norway is a strong global player in renewable energy, circular economy and oceans. Norwegian companies across the spectrum from onshore/ offshore wind, solar power, hydropower, hydrogen, aquaculture, plastics and water management are making inroads into the Indian market.
As India gears up for the next phase of growth, join us for networking with business visionaries and thought leaders on how Norway can be part of this success story and partner with India for its green transition.
REGISTRATION TO THE EVENT
The ordinary registration has closed, but you can still request participation by sending an email to us on post@nicci.no or sms to Trond Skundberg at 97025025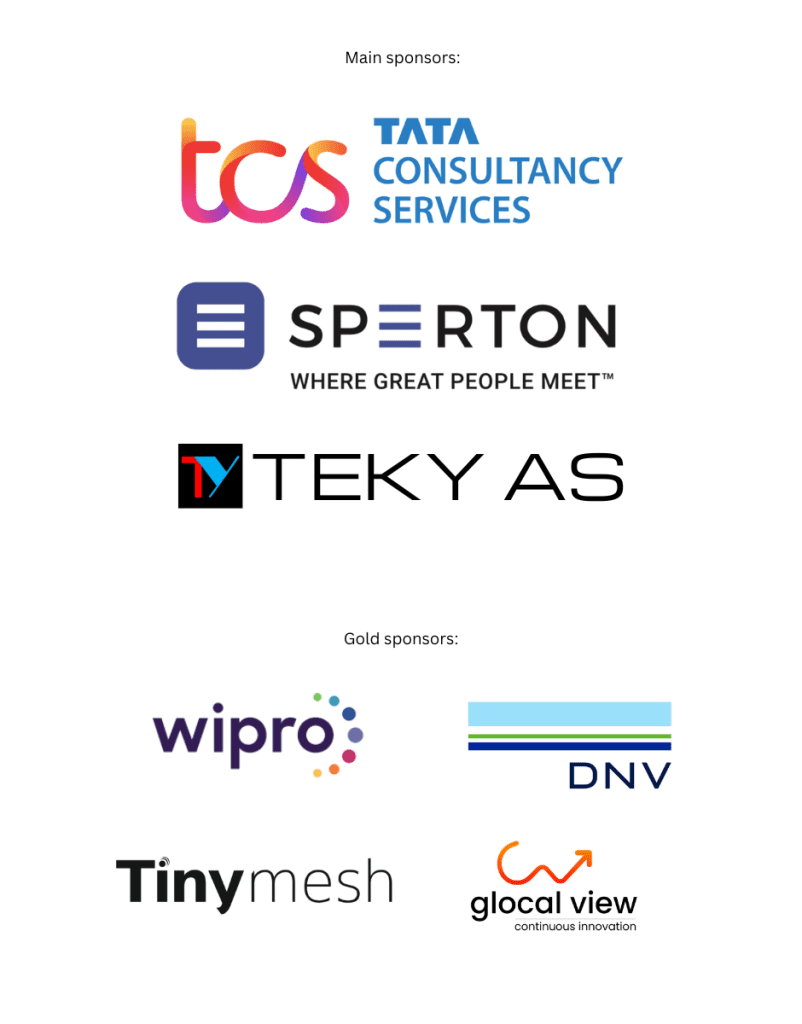 Program for Norway India Business Day 21. August 2023
10.00-12.00 B2B Meetings (optional)
Contact: Ambika Oberoi Sawhney, email: ambika.oberoi.sawhney@innovationnorway.no
12.00-13.00 Registration, networking, lunch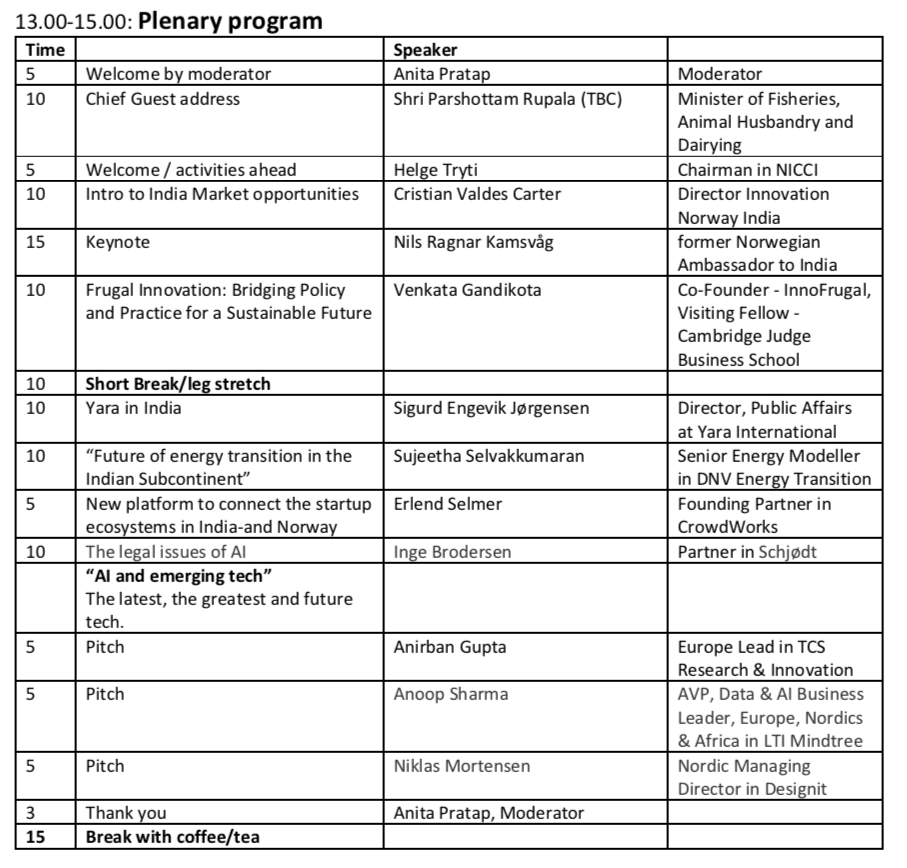 15.15-16.45 Breakout sessions:
Breakout parallel session 1: "The Energy Transition"
Format: panel discussion
Panelists
Title
Company
Sujeetha Selvakkumaran
Senior Energy Modeller
DNV Energy Transition
Gunnar Knutsen
CEO
Crown Lng
Avanish Verma
Business Development Director, Emerging markets
Pixii
Kate Bragg
EVP People Strategy and Digital
Scatec
Bjørnar Baugerud
Senior Vice President – Renewable Energy.
Head of Climate Investment Fund
Norfund
Filipe Da Silva
Consulting Lead – Energy, Resources and Utilities for UK & Europe
TCS
Karen Landmark
Chair of the board
Greenstat Asia
Ragnvald Nærø (Moderator)
CEO
Smart Energy Network
Breakout parallel session 2: "Aquaculture"
The Incoming Aquaculture delegation from India will be participating. More panelists to be announced.
Panelists
Title
Company
Cristian Valdes Carter
Moderator
Innovation Norway
The Confederation of Indian Industry (CII)
Overview of the Indian market
Nafiha Usman
Principal Aquaculture Analyst
Ocean Space
DNV
Ms. Pragya Nehru
Director
FACE (Food and Agriculture Centre of Excellence)
Mr. Utham K S
Group CEO
Captain Fresh'
Breakout parallel session 3: Innovation, AI and Emerging Tech
Format: Roundtable discussion.
| | | |
| --- | --- | --- |
| Presenters/roundtable | | |
| Anirban Gupta | Europe Lead in TCS Research & Innovation | TCS |
| Anoop Sharma | AVP, Data & AI Business Leader, Europe, Nordics & Africa | LTI Mindtree |
| Niklas Mortensen | Nordic Managing Director | Designit |
| Roundtable | | |
| Judah Fernandez | Partner | Kilowott |
| Inge Brodersen | Partner | Schjødt |
| Knut B. Steen | Adviser | CrowdWorks |
| Venkata Gandikota (moderator) | Co-Founder – InnoFrugal | Visiting Fellow – Cambridge Judge Business School |
Topics for discussion:
Future forecast: predictions for the most significant technological advancements in the next 5-10 years?
What role will AI/ emerging technologies play in creating a more sustainable world?
Ethical/legal considerations when developing new technologies
What should governments and regulators be considering today -to ensure they are prepared for the technology landscape of tomorrow?
More with Less – The New Age of Tech: Is Big Data passé? Can Frugal AI revolutionize AI? (introduction by Moderator)
How can small startups and larger established companies work together to drive innovation?
Market- and cooperation opportunities Norway-India


17.00-19.00
Garden Networking Reception
Snacks and drinks.
REGISTRATION TO THE EVENT
The ordinary registration has closed, but you can still request participation by sending an email to us on post@nicci.no or sms to Trond Skundberg at 97025025