Norway India Chamber of Commerce and Industry (NICCI) congratulates Kailash Satyarthi and Malala Yousafzai for winning the prestigious Nobel Peace Prize for 2014. We feel inspired by their incredible journey of struggle and success, of courage and determination!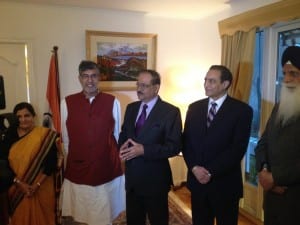 Kailash Satyarthi is 60. Malala Yousafzai is 17! Satyarthi has hitherto been almost a 'nameless' cause in the media, Malala has often been called 'Media's darling'. Satyarthi has 35 long andarduous years of movement for children's rights behind him, Malala has promise to serve and effect change ahead of her. Satyarthi has taken the suffering of tens of thousands of children upon himself and healed his wounds caused by the fire to bring about change in the society.
And, Malala: she has been a sufferer herself, a victim of dogmatic ideologies who has survived from the jaws of death and displayed steely determination coupled with courage to make difference, and, she did, of course! Satyarthi is from India and Malala is from Pakistan. So far, their paths have been different. Their tales of excruciating pain and struggle have been unlike too! But, their paths met, because, their varied roads led to the same goal. Because, they challenged the 'usual' norms, because they cherished the same hope, because they nurtured the same vision for every child under the sun: right to a happy and a fulfilling childhood.
And, perhaps, that is precisely what Chairman of the Norwegian Nobel Committee, Thorbjørn Jagland explained in his opening speech on the occasion of the prestigious Nobel Peace Prize ceremony in Oslo City Hall on Wednesday, December 10, 2014. He said, "A conscience exists in the world which extends beyond all national boundaries, and is independent of religion, culture and social adherence: it states that children have a right to childhood; they have a right to go to school instead of being forced to work." 'This "world conscience" can find no better expression than through Kailash Satyarthi and Malala Yousafzai', he added.
Addressing thousands of distinguished guests including the Norwegian Royal Family, the Prime Minister of Norway, artists from all over the world, prominent guests from various walks of life and a congregation of media from every corner of the world, Thorbjørn Jagland announced, Satyarthi and Yousafzai are precisely the people whom Alfred Nobel in his will calls "champions of peace".
And, when Satyarthi and Malala in their characteristic composure took to the lofty podium to receive the honour, the entire Oslo City Hall reverberated with thunderous applause. The distinguished guests stood up to nod and marvel at the greatness of two 'champions of peace': one, a school girl and the other, a grey-haired middle-aged man! And, the packs of cameras with their frighteningly long zoom lenses flapped on, incessantly.
"We need collective actions with a sense of urgency. Every single minute matters, every single child matters, every single childhood matters," said Kailash Satyarthi, the man who achieved the release of some 80,000 children, rising above violence and constant threats to his life. His son and wife looked on, as he addressed the whole world in his distinctive white 'kurta' (an Indian traditional attire for men) with a familiar smile on his face. He called upon all the governments, intergovernmental agencies, businesses, faith leaders, the civil society and everybody to 'put an end to all forms of violence against children'. "Slavery, trafficking, child marriages, child labour, sexual abuse and illiteracy have no place in any civilized society," he affirmed. He also announced that the single aim of his life is that every child is 'free to be a child, to grow and develop, to laugh and cry, to play, to learn, to go to school and above all, to dream'.
In her distinctively soft yet firm voice, Malala announced before the world that she is not a lone voice, she is the voice of 66 million girls who are out of school today. Emphasizing the importance of education, Malala recalled her speech at the United Nations last year, "One child, one teacher, one pen and one book can change the world." Along with her parents and two little brothers, she had brought along girls from Syria, Pakistan and Nigeria: little girls with similar stories of anguish, violence and pain. The occasion of Nobel Peace Prize was befitting for her to reach out to the world leaders who will meet at the United Nations to decide on the next set of goals, the Sustainable Development Goals in the year 2015. "Leaders must seize this opportunity to guarantee a free, quality primary and secondary education for every child. Some will say this is impractical, or, too expensive, or too hard. Or even impossible. But, it is time, the world thinks bigger," she stated. "My great hope is that this will be the last time we must fight for the education of the children", Malala, 'the girl who wanted to go to school', as she was known to the world a few years ago, opined.
Rina Sunder, Chairperson, Norway India Chamber of Commerce and Industry, was also among the many who witnessed history in making at Oslo City Hall on Wednesday. "This is an extraordinary moment for all of us. While their incredible journeys inspire us, they also remind us to do more, to give back to the society," she said. In an interview with the NRK TV earlier in the day, she spoke at length about the evil of child labour and the horrific impact it has on the society. "I would like to emphasize the importance of trade which promotes human rights and children's rights by tackling challenges related to child labour in the supply chain. We need to take the lead and openly stand up against child labour by emphasizing the importance of following UNs Global Impact," she asserted.