For all members in NICCI; networking member meeting, AGM and member pitches.
Place: Schjødt, Tordenskiolds gate 12 – Oslo.
Date: 20. April 2023. 16.00-19.00 (registration and coffee from 15.30)
Registration in advance is required. Sign up here!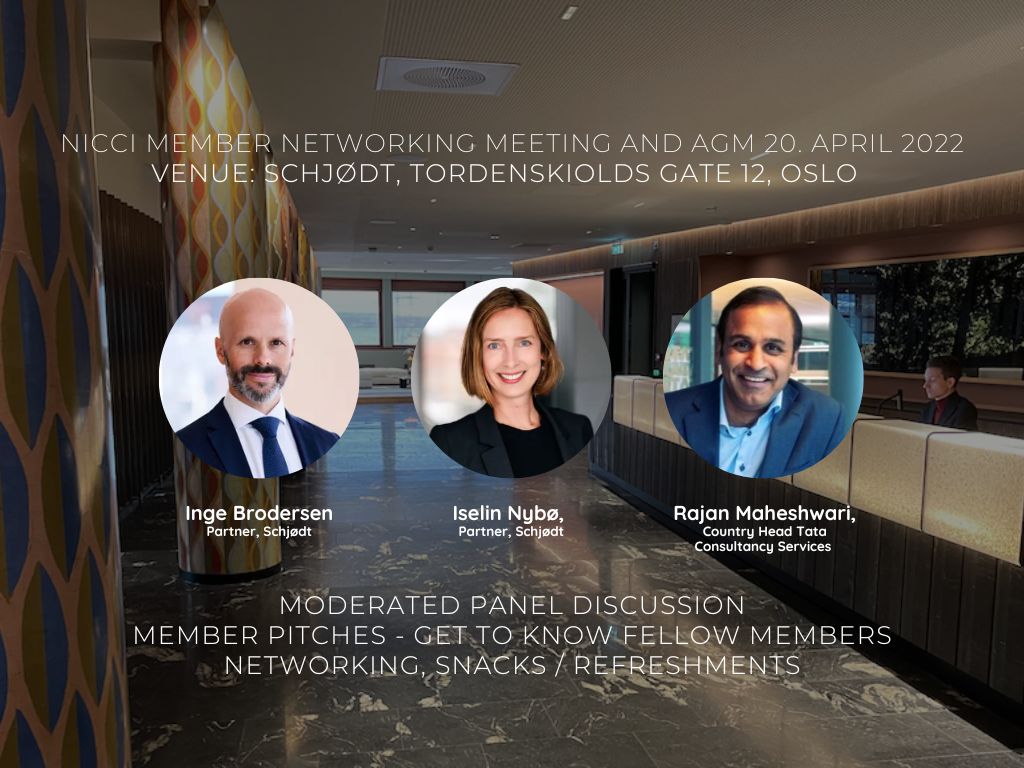 "The Norwegian labor market is changing due to new political decisions"
Recent development and trends. 
New stricter requirements from 1. April 2023. Flexibility drastically reduced. Permanent employment is the new rule.
Provision of IT services under pressure. Rule of privacy protection- how will it affect transfer of data?  Are new models required?


Iselin Nybø, Partner, Schjødt
As former Minister of Trade and Industry and Minister of Research, Ms. Nybø has unique insight in the Norwegian politics and policy making processes

Inge Brodersen, Partner, Schjødt
Focus on IT/technology and digitalization. Principal areas of work are data protection, cybersecurity, digital rights, licensing as well as disputes and appeals for the supervisory authorities.

Rajan Maheshwari, Country Head – Norway in Tata Consultancy Services (TCS)
Experienced IT Professional working in the information technology and services industry. Sales & consulting professional skilled in Digital Transformation, NextGen Service Delivery Model, Customer Service, Senior Leadership Connect & Business Management.
AGM
-Approve the Annual Report of the board for 2022
-Approve the accounts of the chamber for 2022
-Elect new members of the board to replace the ones that have served for two years
-AOB
Member company pitches (5 min each)
This will give possibility for members to get to know each other and will strengthen the Chambers general level of competence.
Mingling and refreshments
until 19.00