Thanks to speakers, members and guests for making the NICCI summer event a success.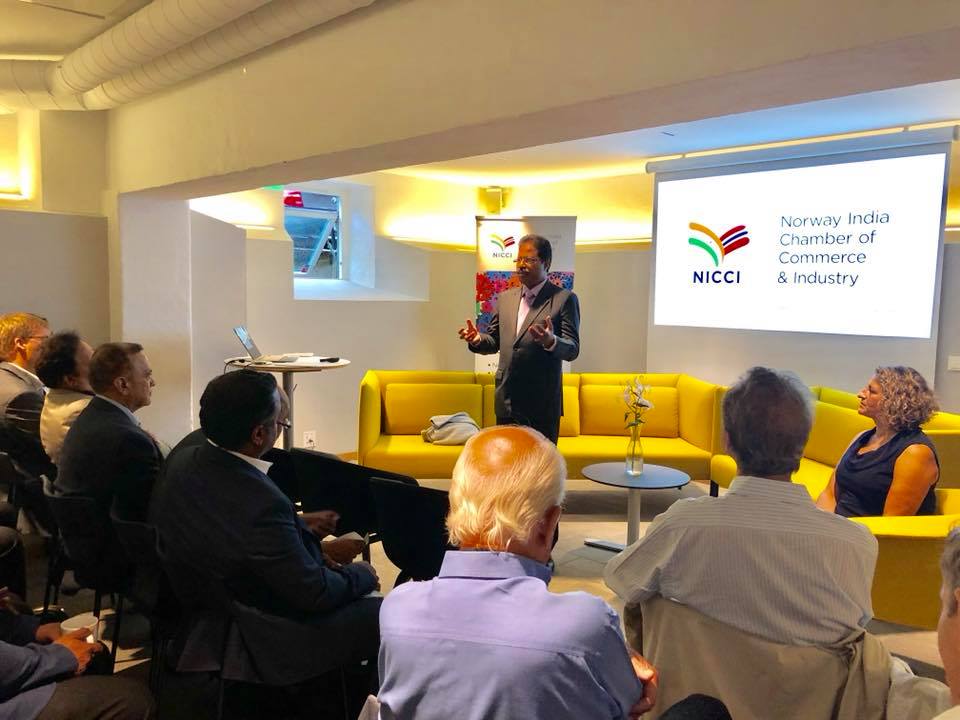 50+ people joined us at our HQ in Oscars gate 27 for our AGM, seminar and reception. The topic of the seminar was cultural aspects in cross-border cooperation. The speakers that shared both challenges and success factors in optimizing cross border collaboration:
Maja Vikan, Seema
Ulf Abrahamsen, Aker Solutions
Simen Bræin, Statkraft
Espen Wøien, Kongsberg Digital
Followed by a panel discussion moderated by our Chair Tima Iyer Utne.
Update from the NICCI work groups were given and members encourages to participate in the work of identifying market opportunities and organizing relevant events this fall.
Ingrid Åsheim, DNB, Head "Ocean Industries Work Group"
Vineet Jain, Glocal View, Head "ICT-Health Work Group"
Sarbajit Deb, L&T Infotech, Head "Smart City Work Group"
A special thanks to H.E. Ambassador Debraj Pradhan for 2 years of continuous support and excellent cooperation with NICCI. We hope the Moose sweater will remind you about good moments with the Norway-India business community.
Thanks a lot to Tima Iyer Utne for raising the bar for NICCI activities during your 2 years as Chair of the Board.
Welcome to our new board members elected at the AGM:
Maja Vikan – Advisor in Seema
Simen Bræin – SVP in Statkraft
Espen Wøien – VP Kongsberg Digital
We wish you all a great summer and look forward to see you at our meetings, events and our study trip to India later this year.