On the 23. August, NICCI participated in a India seminar with industry, academia, public- and private sector organizations in Kristiansand / Agder to inform about business opportunities in India and hopefully ignite a structured business collaboration Agder – India.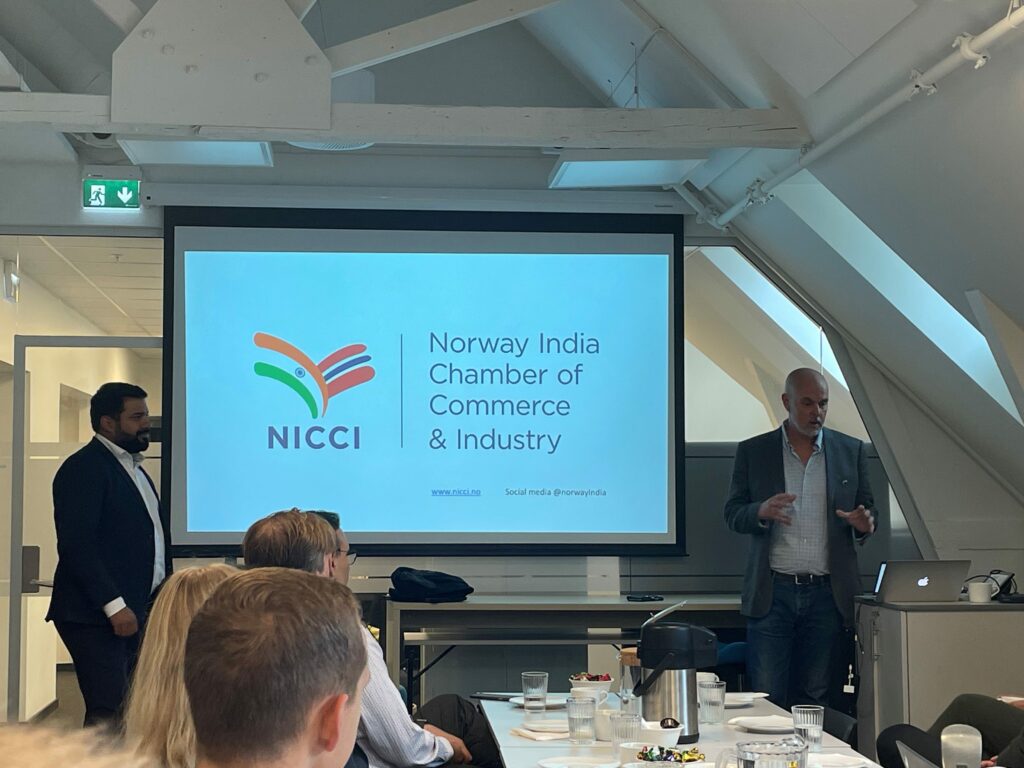 NICCI member-representative, Judah Fernandez of Kilowott, and Trond Skundberg, General Manager of NICCI, visited Kristiansand on August 23rd to provide updates on promising business opportunities in India and to initiate a collaboration between Agder and India.
For NICCI members interested in actively participating in the next phases of this initiative, please feel free to contact us via email at post@nicci.no. Your involvement is welcome.
Minutes of the meeting written by: Morten Lauknes, Advisor International affairs/Offshore wind – Business Region Kristiansand
1. Morten's Introduction:
Attracting Foreign Companies: Morten emphasized the importance of bringing in companies from abroad to their region. This is likely a strategy to boost the local economy and foster international collaborations.
Sustainable and Renewable Goals: The focus on sustainability and renewables indicates a forward-thinking approach, aligning with global trends towards green energy and sustainable practices.
Investment in India: Krs's interest in India's renewable sector signifies the recognition of India's potential in the global renewable space. This could lead to mutual benefits for both regions.


2. NICCI's Insights by Trond Skundberg and Judah Fernandez:
India's Potential: The duo highlighted several impressive statistics about India, such as its young working population and its position as a major energy consumer and producer. These insights underscore India's significance on the global stage.
Interesting facts charted out about India:
It has the largest young working population.
It is the 3rd largest producer and consumer of energy, wherein Norway can have a big potential.
It is the 5th largest economy in the world. By 2030, it is predicted to be the 3rd largest.
Norway's trade with India has only grown since a decade.
India has the largest Indian workforce outside Schengen.
India has the potential to provide the skilled resources that Norway needs.
Norwegian Government's Strategy for India: The fact that India is the only country for which the Norwegian government has a dedicated strategy indicates the importance of India-Norway relations. The strategic sectors mentioned, like Ocean, Energy, and Greentech, suggest areas of mutual interest and collaboration.


3. UIA: University av Agder's Collaboration with Indian Institutes:
Student Exchange with IITs: The university's collaboration with top-tier institutes like the IITs in India is noteworthy. Such exchanges can foster academic excellence and lead to innovative research collaborations. UiA has a history with many teaching institutes with India which includes all the top universities like IIT's.
UiA, is now having a student internship programme with all the Major IIT's in India.
They will have 50 students coming in January. They would mostly be in the field of Masters in mechatronics and AI. They would be studying in Grimstad.
• Retaining Indian Talent: A significant point of discussion was the challenge of retaining the Indian talent coming in through student exchanges. The university is keen on ensuring that these highly skilled students find opportunities in Norway post their studies.
4. Chamber of Commerce: Trond. M Backer's Insights:
Green Industry Focus: The Chamber's national roadmap for the green industry, covering sectors like maritime, battery, hydrogen, and carbon, indicates a strong commitment to sustainable industrial practices.
Investment in Agder: The emphasis on making Agder a prime market for green energy and looking at India as a potential investment opportunity showcases the region's ambition to be at the forefront of sustainable development.
Future Course of Action & Next Steps:
1. Building an International Workplace in Norway:
• This suggests a vision to make Norway more welcoming and conducive for international professionals. It could involve creating a diverse work environment, offering training programs, and fostering a culture of inclusivity.
2. Cultural Sensitivity Training:
• Recognizing the importance of understanding the diverse backgrounds of international professionals, especially from India. Such training can help bridge cultural gaps, improve communication, and foster better working relationships.
3. Understanding Company-Energy Linkages:
• This likely pertains to identifying which companies are associated with specific energy sources. By doing so, they can better align their sustainable and renewable goals with the right partners and stakeholders.
4. Strengths and Risk Analysis:
• A comprehensive assessment to understand the strengths they can leverage and the potential risks they need to mitigate. This is crucial for informed decision-making and strategic planning.
5. Structuring and Streamlining Collaboration Themes:
• Organizing and prioritizing the various themes and topics discussed during the meeting. This will help in creating a clear action plan and ensuring that all stakeholders are aligned with the objectives.
6. Retaining Skilled Talent from India:
• A major emphasis was placed on retaining the skilled talent coming from India, especially students from top institutes like IITs. Strategies could include offering competitive job opportunities, providing growth paths, and ensuring a welcoming environment.
7. Breaking the Workflow into Segments:
• This suggests a modular approach to collaboration, where different teams or individuals focus on specific segments or areas. It ensures efficiency and allows for expertise to be applied where it's most needed.
8. Building the Agder Region:
• Making Agder more appealing for international talents involves not just job opportunities but also considering aspects like social networking, housing, schooling, and opportunities for spouses. A holistic approach ensures that professionals find it conducive to settle and grow in the region.