Norway recently passed a new legislation, the Transparency Act, which will come into force from July 1st 2022. This is likely to affect your Norway-India Business, so join us to know more about both challenges and opportunities related to this.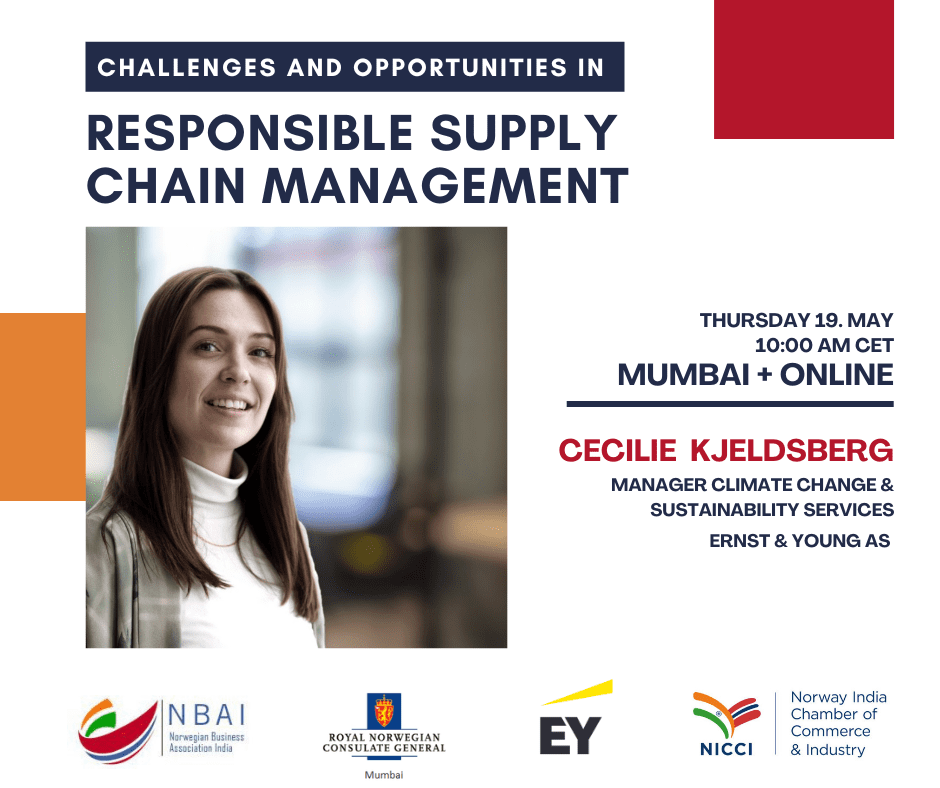 Member meeting 19. May 2022
«Challenges and opportunities around responsible supply chain management»

This legislation is enforcing companies to have insight into every step of supply chains that is defined as high-risk in terms of human rights. This legislation will become applicable for subsidiaries of Norwegian companies even if 100 % of substantial business is transacted in India, with an increased ethical standard in terms of decent working conditions and human rights in the supply chain.
Time: 19. May 10 AM CET / 01.30 PM IST
Place: HYBRID EVENT. Online at the Digital Team Norway India platform or at The Royal Norwegian Consulate General in Mumbai.
Agenda
Welcome by Bredo Erichsen, Chairman – NICCI
Welcome by Ganesh Shenoy, Chairman – NBAI
Introduction by Arne Jan Flølo, Consul General – Royal Norwegian Consulate General in Mumbai
Main speaker Cecilie Kjeldsberg, Manager Climate Change & Sustainability Services – Ernst & Young AS
Q&A
Panel discussion with Norwegian companies in India moderated by Cecilie Kjeldsberg

Learn about the new legislations and how it affects your operations.