MUMBAI: for 3 days the IFN/NICCI study group made the 20 million people metropolis unsafe, hunting high and low for Indian game-changing. The catch brought home was tons of inspiration and a tiny bottle of coconut hair-oil.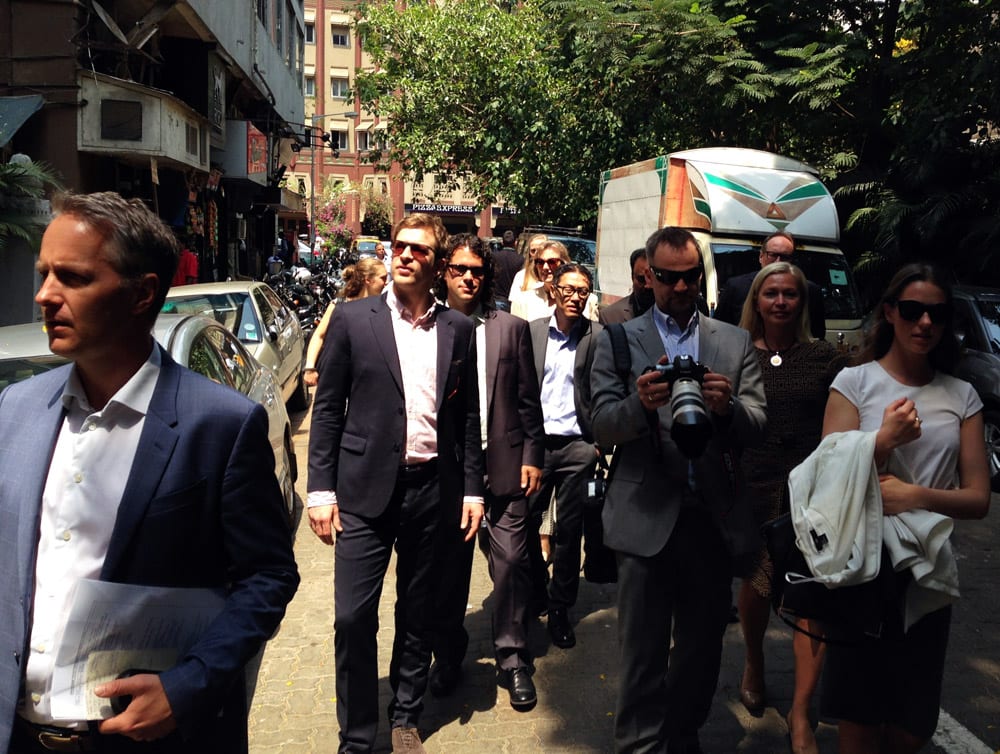 Co-organized by NICCI, Innovation Forum Norway's annual study trip aimed at exploring innovation in India, on-ground in the world's fastest growing economy. The critical fuel for continued acceleration is innovation.
India is well known for its micro enterprise entrepreneurial spirit. Traditional businesses, not high-tech. The culture of innovating to create really huge value has not developed as in Silicon Valley. Does India have the entrepreneurship ecosystem to match Prime Minister Modis world domination ambitions? New results require a new mindset, and that is exactly what we Norwegians were scouting for in magical Mumbai.
Going straight to Norwegian-business
Luckily all 20 of us survived the short walk in the chaotic traffic of India's financial capital. Ready for our first lesson: "Norway-India business history". The classrom: a colonial club built in 1894.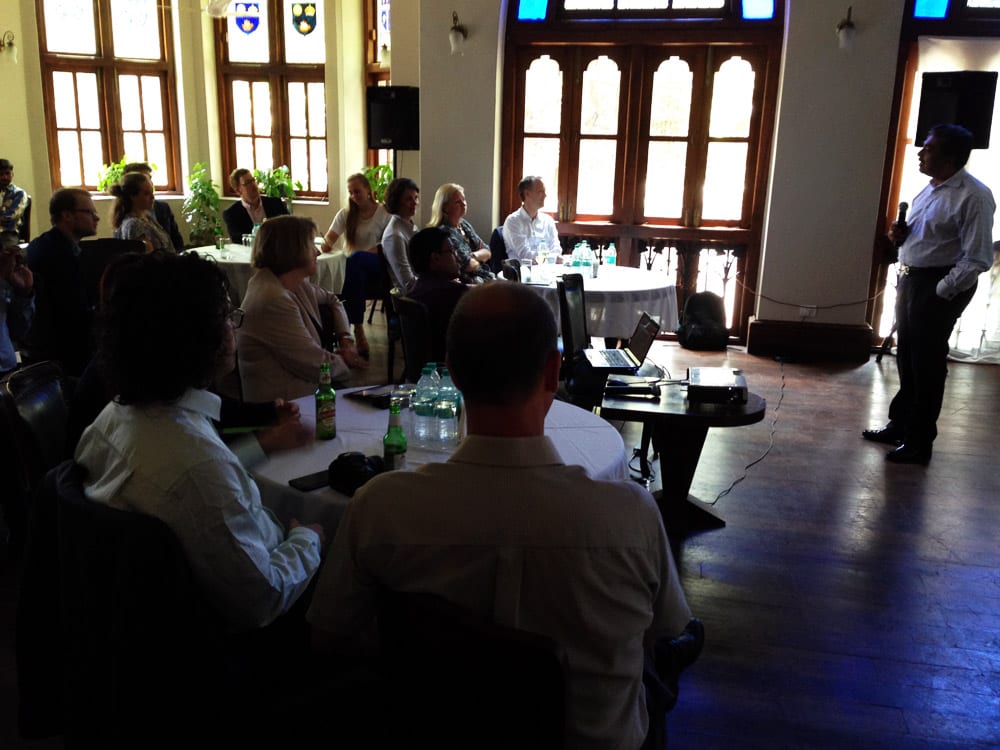 Managing Director in Norinco, George Mathew, has played a leading role in Norwegian business in India the last decades. Norinco was founded by the Norwegian India pioneer Sverre Gylseth in 1942. What started with sale of paper and pulp for Borregaard, import of industrial goods representing Elkem and Norsk Hydro, has evolved into India's premiere company in shipping, oil & gas and metallurgical industries. A good example of a brave Norwegian entrepreneur that dared, and succeeded in India.
Mr. Mathew's history lesson introduced us to the successful India adventure of Ulstein, Kongsberg, Elkem, Norsk Hydro, Hydralift Cranes, Bergen Diesel, Teamtec, Oceanor and NEL over the years from the 1950s. We also learned from the good timing of Maritime Montering, DNV, Aker Solutions and Orkla.
-We have seen some failures too, mainly because of lack of patience, resources, and interest of the top management. George told us.
-Another showstopper has been the difficulties competing in the Indian Governments peculiar tender rules.
-All above mentioned successful companies came to India when it was supposedly difficult to do business in India. George Mathew said. Important factors at that time were bureaucracy, corruption, lack of hard currency, socialistic regimes and FDI restrictions.
This statement leading to me questioning how much has actually changed in India's policy environment, which is not known as the simplest in the world?
-It has been many reforms the last year, but it is yet to see if it is enough. The stock market is booming because of hope in the new Government, but is it sustainable?, Mr. Mathew answered.
Listening to George, I cannot help thinking that the ones that has succeeded must have done that despite of, more than because of -the government. However, Prime Minister Modi seems to mean business, and obviously need more than one year to turn this ship around.
Mr. Mathew ended his session with the following statement:
-If handled smartly, India is a great marked.
Knowing very well he can be proud having played the cards right for many of the Norwegian companies that succeeded in India.
Learning "Corporate Innovation" from a giant with a startup-mindset
Mahindra & Mahindra is one of India's largest Industrial groups. Our teachers for our 3 hour session was the top management, among them, Mr. Wadalkar, CTO of Tech Mahindra, with 100 000 employees on their payroll.
What fast became clear during the presentations is that instead of getting passive as a result of a very successful running business, the focus on innovation in Mahindra seems overwhelming.
My initial thought was that the hierarchy, processes and management system of a 200 000 people enterprise -would make it cumbersome to lead way in innovation. I was wrong. Mahindra seems to have cracked the code of bringing the "experiment, fail and succeed environment" of a startup -into giant enterprise.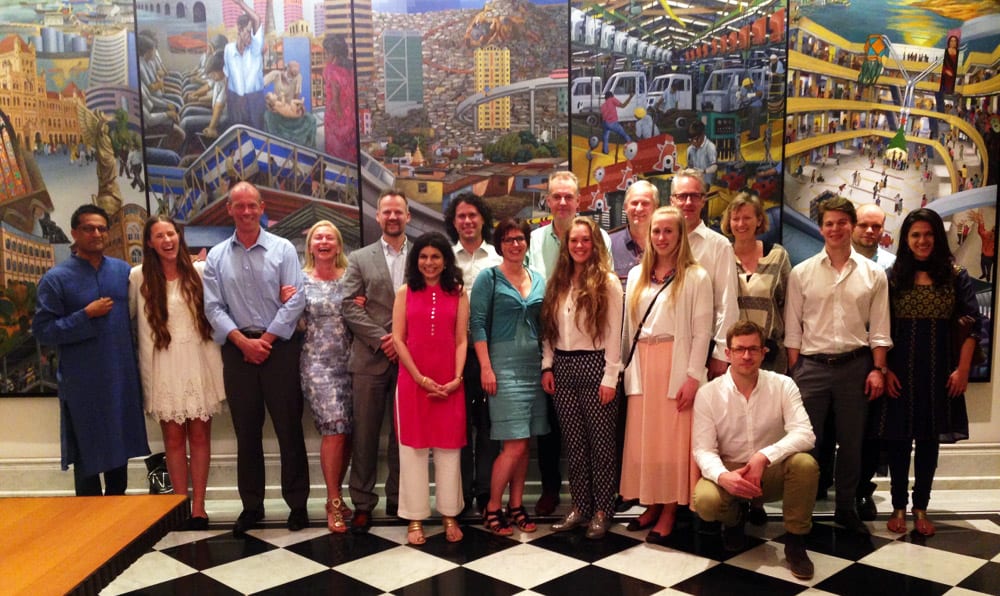 Chairman Anand Mahindra must be getting a lot of inspiration from the surroundings of his exclusive Gateway-office. Which is clearly benefitting the work of building an innovation mindset into the very DNA of his business conglomerate.
A million dollar dollar for disruptive innovation
One of many amazing Mahindra initiatives to really motivate innovation with impact on society, is a competition for Indian entrepreneurs, with the biggest prize money ever. The challenge: invent a driver-less car or create a do-it-your-self solar kit for home use in rural areas.
Even more impressing than the massive prize money is Mahindras holistic approach towards stimulating in-house entrepreneurship. Each sector has its own innovation cell. Every single employee has a direct channel for suggesting ideas -that are evaluated by experts according to a clearly defined process, eventually escalating all the way to the the chairman's office, if found promising enough.
Their entrepreneurship program offer a great alternative to employees that want to leave the company and become entrepreneurs. They can keep working in Mahindra, as entrepreneurs -with the fine masked safety-net of a huge industrial house.
We were rounding off day-one with some culinary exploration in a legendary Bombay hotel. The debrief in colonial surroundings left no doubt we were on the track of the change-making mindset we came searching for.
A warm meeting with India's king of fast moving consumer goods.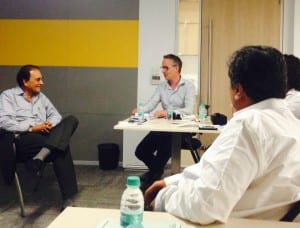 From the moment we met Harsh Mariwala in his Bandra-Kurla office, we could sense he was different, in a very good way. The business-magic he has done, is transforming the small family managed edible-oil company into a multi brand global business, shipping to 25 countries. Annual turnover 750 million USD.
Marico's flagship brand, the Parachute coconut hair-oil, is found in any small grocery store across India. Incredible 40 million bottles sold, every month.
The key takeaway from the Marico chairman wasn't the innovative journey of the coconut oil packaging: from a tin-can to the hard to copy drip free plastic bottle. It was not the one-rupee, one portion pack, created especially for the millions at the bottom of the economic pyramid either.
Our real lesson learned from Harsh was how innovation in organization and process, how creating a value driven unique culture including family-owners, employees, vendors and distributors – made all the difference.
Filling the skill gaps and replacing the top-down approach that typically comes with an Indian family business -with a culture of openness, sharing and trust, can't have been easy.
-Involvement leads to commitment. Corporate values are communicated trough Values workshops. We have created a participative culture, also on workmen level, Mr. Mariwala told us.
Innovation is a business activity including every piece of the organization.
In Marico the focus is on seeking opportunities, capturing new ideas from employees, giving the freedom to experiment, doing quick and dirty market research and creation of in-house facilitation. It's also about being exposed to thought leaders and bringing in outside. Marico seems to have succeeded in implementing a small company culture paired with big thinking. Among many initiatives, the above formula gave birth to a skin care clinic. Or, wait – 100 skin care clinics across India it was.
Having a fascination for Indian Jugaad innovation, I was especially happy to see Mr. Mariwala true frugal mindset. An advocate of "more for less" trough disruptive innovation. Not stripping products and services to make them cheap. But to offer high quality at affordable prices in the emerging markets he is operating in.
On top of everything else, it seems clear Mr. Mariwala also has added a lot of patience and quite some uncommon sense in the making of his Marico masala.
Luckily, hair-oil billionaires aren't as other billionaires.
Mariwala has succeeded big time. Now he is giving back -big time. The Marico Foundation contribute extensively in everything from female journalists providing news to 300 remote and off-line villages, to road improvement trough innovation in asphalt strengthening. Not to mention his own start-up accelerator. Guess how many entrepreneurs he is planning to kick start? 10000. Yes, ten-thousand. The recipe? Trust, of course.
Where we inspired? Yes indeed. A couple of us felt like reporting to duty as Mariconians straight away.
Change-making: educating 100 000 girls.
The non-goverment organization NAANDI is very close to Anders Liers heart. The chair in IFN did not make much attempts hiding his feelings talking about improving the lives of his 100 000 Nanhi-kali girls. His deep personal social responsibility touched the rest of us.
No trip to India without exposure to the bottom of the economic pyramid. In groups of 3, everyone in our study-group visited different urban-slum homes in Mumbai. Being served lemon soda sitting on the floor in the very small one-room family home, my group discussed the program with two smiling school girls. They are in very low quality public schools. -Most of the time the teacher is not even there, they told us.
That's why Nanhi Kali come to the school to teach the girls before or after regular school hours. The girls also get paper and pens, an extra school uniform, shoes, underwear and sanitary pads. The concept seems simple enough but it makes all the difference for the girls. Without this few simple contributions, the school-girl we visited could have never dared dreaming about becoming a doctor.
Is there a social innovation takeaway?
It sure is. This is a example of understanding the actual pain areas. Then looking at the existing process and complimenting it exactly where needed. In this case, to prevent less fortunate girls from dropping out of school. Knowing the positive impact on society when one girl is educated, imagine the impact 100000 of them will make.
We waived good-bye to the future medical doctor and dived into the heavy rush traffic in the city of dreams, a little richer than before.
Academic innovation and entrepreneurship: Is IIT the source of future high-value creation in India?
Believe me, the guys we met at Indian Institute of Technology Bombay, miss the brakes that the "fear of failure culture" and traditional thinking can be to breakthrough innovation. On the contrary, they are motivated to take risk, encouraged to play, experiment and fail early. They are fortunate to have the security needed to dare act on their entrepreneurial hunger. In their campus bubble next to the Powai lake, the student at India's elite tech university are in many way detached from reality -given the opportunity to make a difference.
Visiting Society for innovation and entrepreneurship
SINE is seamlessly integrated with IIT Bombay, one of the best sources of technology innovation and research excellence in India. Their mission is to incubate early stage entrepreneurs spun off IITB. The CEO Poyni Bhatt has a lot of things to be proud of; incubating 55 companies, transforming innovation and knowledge into successful entrepreneurs, seamlessly integrating the 750 staff R&D department of the institute, not to mention preparing a program with real value for our curious Norwegian delegates.

The 3 representatives from the student innovation organization, eCell, made quite an impression on us. What a passion for commercialization in their fields of expertise. What a knowledge of the Indian startup ecosystem.
Let's say one of the student wanted to venture into mobile, internet or consumer technology. Is financing available? The good news is that enough capital is available today. In less than a decade India has gone from having no venture capitalists, growing – but with very low willingness to take risk, to a 2015 scenario were a large number of VC's have invested and been rewarded, resulting in a higher risk appetite.
So, the opportunity window is wide open for the IITB eCell guys. I wouldn't be surprised if we met one of the future Indian high-value creators.
A miracle cure for gray-ish Norwegian hair?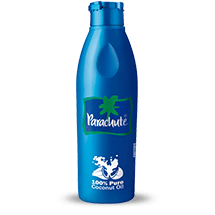 While 27 teams are now on actual prototyping in Mahindras solar kit contest, George is smartly handling the India market for Norwegian companies, the Naandi girls are actually learning, and I am secretly trying out my coconut hair-oil back in Oslo. My daughters immediate response was my hair looked darker. Big smile. Please send another bottle Mr. Mariwala.
Innovation in India truly has a bright future.
Written by: Trond Skundberg