The intention of India Business Day is to generate interests to enter the giant Indian market, highlight specific business opportunities and showcase the funding- and support agencies ecosystem. Plenum, breakout sessions and networking.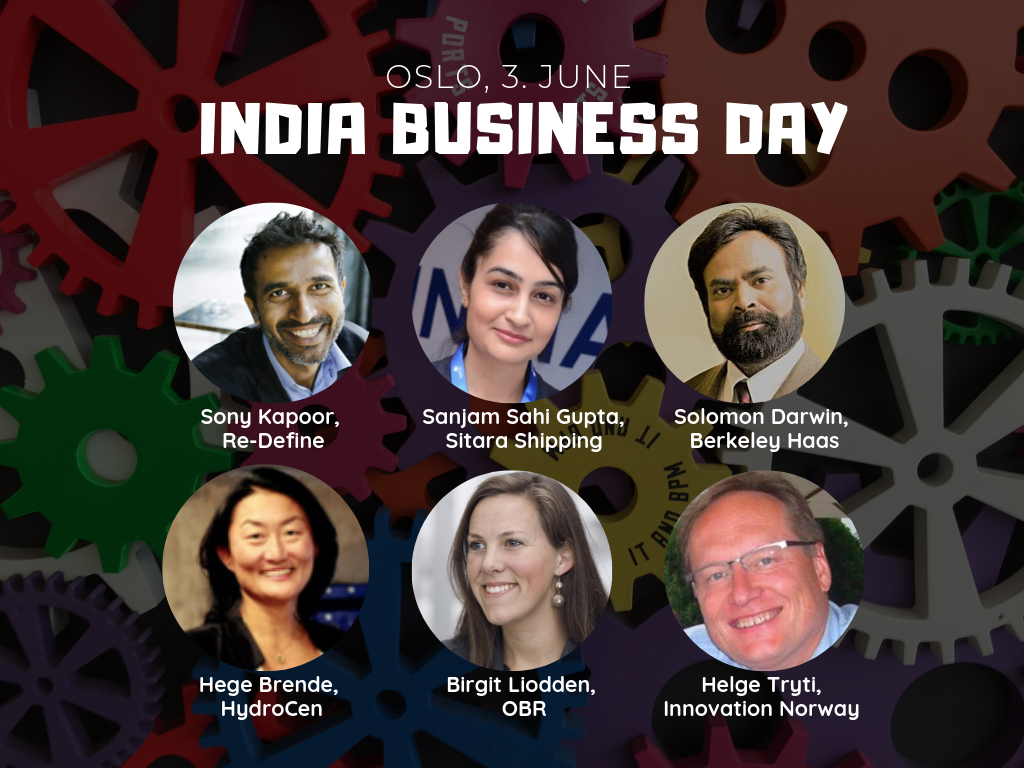 Time: 3. June 2013, 12.30-16.00
Venue: "Skur 13", Filipstadveien – Oslo.
The event is free.
India business opportunity seminar targeted at Norwegian companies with- or considering business in India. The event is a next-step to maintain traction after the focus created by the Prime Minister visit / business delegation to India in January 2019, and the Norwegian Governments new India strategy.
Plenum session from 12.30. Confirmed speakers:

Daniel Bjarmann-Simonsen, State Secretary Ministry of Trade, Industry and Fisheries
H.E. Mr. Krishan Kumar, Ambassador of India to Norway (TBC)
Solomon Darwin, Executive Director, Berkeley Haas and founder of the Smart Village movement in India.
Sanjam Sahi Gupta, Director, Sitara Shipping
Sony Kapoor, Director of the international think tank Re-Define.
Helge Tryti, Director Innovation Norway, India.
Hege Brende, Executive Director, Norwegian Hydropower Centre
Birgit M. Liodden, Director Sustainability, Ocean & Communication, Oslo Business Region
Hans Jacob Frydenlund, Norway´s new Ambassador to India from September.
Breakout-sessions, 14.45-15.45:
"Ocean Industries Roundtable"
Moderator: Helge Tryti, Innovation Norway
"Renewable Energy Roundtable"
Moderator: Merethe Sandberg Moe, The Research Council of Norway
"Circularity -making the most of resources" (Waste, recycling and water purification)
Moderator: Birgit M. Liodden, Oslo Business Region
"ICT cooperation Norway-India: Making cultural differences and diversity your business advantage"
Moderator: Maja Vikan, NICCI / SEEMA
The breakout sessions are followed by networking until 16.30.
---
"Scale-ups going India"
Norwegian growth companies pitching for a panel of business angels.
Moderator: Jørn Lein Mathisen, Oslo International Hub / Nordic Hub India.
Note that this session is organized later the same afternoon. Time and place will be announced.
Updates to the program is published ongoing.
Co-organizers :
Norway India Chamber of Commerce and Industry
Innovation Norway
The Research Council of Norway
Team Norway in India
Oslo Business Region
Embassy of India, Oslo
NHO
Oslo International Hub
Nordic Hub India
Norwegian Ministry of Foreign Affairs
Norwegian Ministry of Trade, Industry and Fisheries