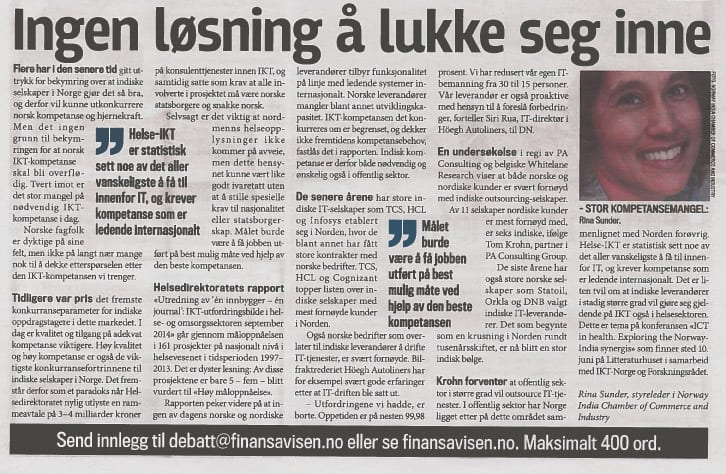 -Det er pradoksalt å stille krav om at alle involverte IT-konsulenter må være norske, skriver Rina Sunder i Finansavisen i dag.
Ingen løsning å lukke seg inne
Det er paradoksalt å stille krav om at alle involverte IT-konsulenter må være norske, skriver Rina Sunder i Norway India Chamber of Commerce and Industry.
Av Rina Sunder
Styreleder, Norway India Chamber of Commerce and Industry
Flere har i den senere tid gitt uttrykk for bekymring over at indiske selskaper i Norge gjør det så bra, og derfor vil kunne utkonkurrere norsk kompetanse og hjernekraft. Men det ingen grunn til bekymringen for at norsk IKT-kompetanse skal bli overflødig. Tvert imot er det stor mangel på nødvendig IKT-kompetanse i dag.
Norske fagfolk er dyktige på sine felter, men ikke på langt nok mange nok til å dekke etterspørselen etter den IKT-kompetansen vi trenger.
Høy kompetanse blant fagfolk
Tidligere var pris det fremste konkurranseparameter for indiske oppdragstakere i dette markedet. I dag er kvalitet og tilgang på adekvat kompetanse viktigere. Høy kvalitet og høy kompetanse er også de viktigste konkurransefortrinnene til indiske selskaper i Norge. Det fremstår derfor som et paradoks når Helsedirektoratet nylig utlyste en rammeavtale på 3-4 mrd. kroner på konsulenttjenester innen IKT og samtidig satte som krav at alle involverte i prosjektet må være norske statsborgere og snakke norsk.
Selvsagt er det viktig at nordmenns helseopplysninger ikke kommer på avveier, men dette hensynet kunne vært like godt ivaretatt uten at å stille spesielle krav til nasjonalitet eller statsborgerskap. Målet burde være å få jobben utført på best mulig måte ved hjelp av den beste kompetansen.
Mangler kapasitet
Helsedirektoratets rapport "Utredning av «en innbygger – én journal»: IKT utfordringsbilde i helse- og omsorgssektoren September 2014" går gjennom måloppnåelsen i 161 prosjekter på nasjonalt nivå i helsevesenet i tidsperioden 1997-2013. Det er dyster lesning: Av disse prosjektene har bare 5 – fem – blitt vurdert til "høy måloppnåelse".
Rapporten peker videre på at ingen av dagens norske og nordiske leverandører tilbyr funksjonalitet på linje med ledende systemer internasjonalt. Norske leverandører mangler bl.a. utviklingskapasitet. IKT-kompetansen det konkurreres om er begrenset, og dekker ikke framtidens kompetansebehov, fastlås det i rapporten. Indisk kompetanse er derfor både nødvendig og ønskelig også i offentlig sektor.
Mest fornøyde kunder
De senere årene har store indiske it-selskaper som TCS, HCL og Infosys etablert seg i Norden, hvor de blant annet har fått store kontrakter med norske bedrifter. TCS, HCL og Cognizant topper listen over indiske selskaper med mest fornøyde kunder i Norden.
Også norske bedrifter som overlater til indiske leverandører å drifte it-tjenester, er svært fornøyde. Bilfraktrederiet Höegh Autoliners har for eksempel svært gode erfaringer etter at it-driften ble satt ut.
– Utfordringene vi hadde, er borte. Oppetiden er på nesten 99,98 prosent. Vi har redusert vår egen it-bemanning fra 30 til 15 personer. Vår leverandør er også proaktive med hensyn til å foreslå forbedringer, forteller Siri Rua, it-direktør i Höegh Autoliners, til DN.
Indisk bølge
En undersøkelse i regi av PA Consulting og belgiske Whitelane Research viser at både norske og nordiske kunder er svært fornøyd med indiske outsourcing-selskaper.
Av 11 selskaper nordiske kunder er mest fornøyd med, er seks indiske, ifølge Tom Krohn, partner i PA Consulting Group.
De siste årene har også store norske selskaper som Statoil, Orkla og DNB valgt indiske it-leverandører. Det som begynte som en krusning i Norden rundt tusenårsskiftet, er nå blitt en stor indisk bølge.
Et marked i vekst
Krohn forventer at offentlig sektor i større grad vil outsource it-tjenester. I offentlig sektor har Norge ligget etter på dette området sammenlignet med Norden forøvrig. Helse-IKT er statistisk sett noe av det aller vanskeligste å få til innenfor IT, og krever kompetanse som er ledende internasjonalt. Det er liten tvil om at indiske leverandører i stadig større grad vil gjøre seg gjeldende på IKT også i helsesektoren. Dette er tema på konferansen ICT in health. Exploring the Norway-India synergis som finner sted 10. juni på Litteraturhuset samarbeid med IKT-Norge og Forskningsrådet.
Written by Rina Sunder