The Embassy of India in cooperation with the Carpet Export Promotion Council of India, under the aegis of the Ministry of Textiles, Government of India, will be organizing an Expo and a Buyer Seller Meet (BSM) of handmade Indian carpets on 12th and 13th November, 2018 at Radisson Blu Hotel & Conference Centre, Alna, Oslo.
For this purpose, a group of 15 handmade carpet exporter companies from India will be visiting Norway. A number of Norwegian carpet importers have confirmed their participation for the BSM.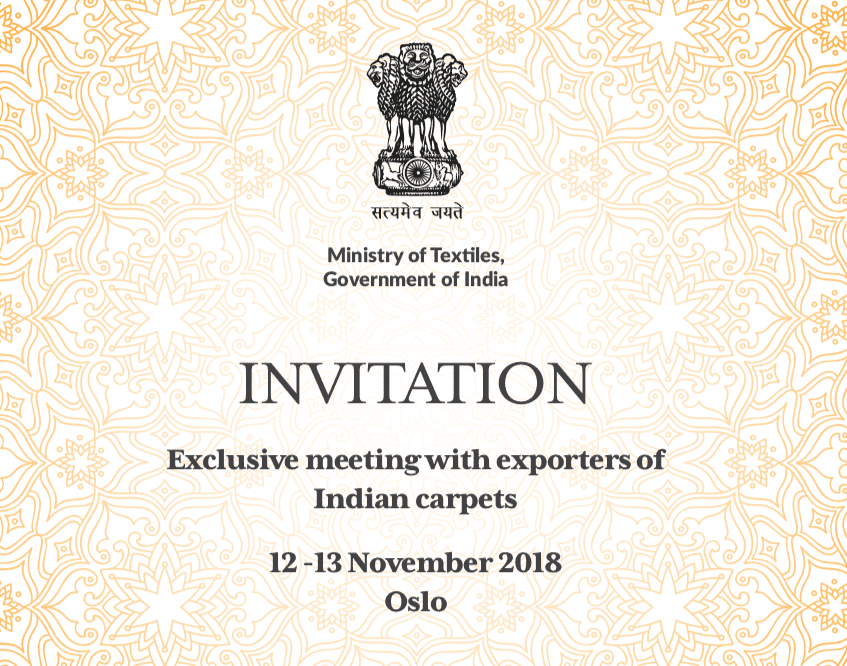 Invitation from by Amar Jet
Counsellor (C&I)/Head of Chancery
Embassy of India, Oslo
The Carpet Export Promotion Council (CEPC) is a non-profit making
organization which was setup in 1982 by the Ministry of Textiles, Government
of India. It was setup to promote the export of all types of handmade,
hand-knotted and hand-tufted carpets, rugs, floor coverings and other allied
products from India. CEPC has been the voice of the entire business
community of Indian carpets since 1982. It has more than 2500 members across
the country.
India has been one of the leading exporters of handmade carpets and the
event will be a unique opportunity for retailers, buyers and interior
designers to experience the richness, variety and exquisite beauty of Indian
handmade carpets for the first time in Norway. Since all the key members of
the Indian carpet industry will be present at the event, Norway-based
importers can have a direct dialogue with the exporters and create exciting
business opportunities. The event will go a long way in paving ways to
strengthen Norway-India business relations as well.