«Verdens nest største økonomi i 2050. Hvordan er Norge posisjonert for samarbeid med India?" Innlegg av statsrådene Lars Andreas Lunde (NFD) og Jens Frølich Holte (UD). Panel bestående av: Erik Solheim, Arne Jan Flølo, Cristian Valdes Carter, Fridtjof Fossum Unander, Stina Torjesen, Karen Landmark og Himanshu Gulati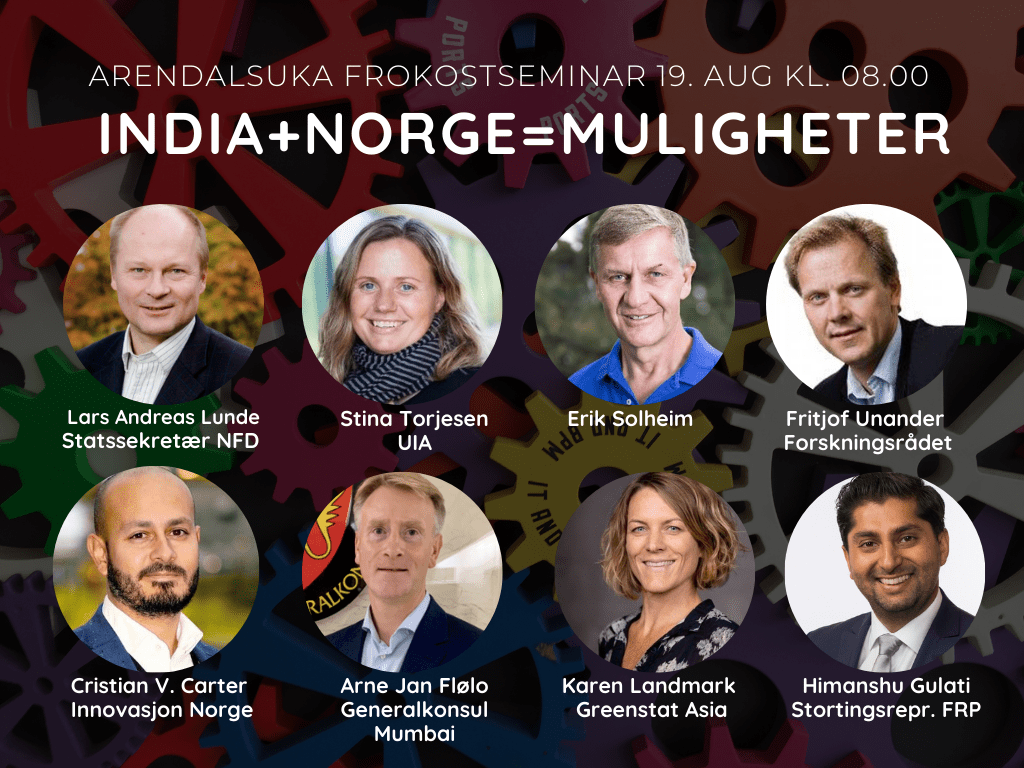 Arrangør: Norway India Chamber of Commerce & Industry, Universitetet I Agder, Norges forskningsråd
Dag: Torsdag 19/8 2021 08:00 – 09:00
Arrangementstype: Seminar
Tema: Internasjonalt , Næringsliv
Språk: Norsk
Sted: UiA-teltet
Norge har flere spennende samarbeid med India innen næringsliv, forskning og utdanning. Fremtidige muligheter er store. India har store behov og ambisjoner innenfor områder hvor Norge er verdensledende.
Arrangementet vil fokusere spesielt på næringssamarbeidet, og samtidig søke å identifisere hvordan samarbeid innen forskning og utdanning kan bidra til å styrke det bilaterale forholdet.
Oppdateringer og paneldiskusjon: Hvordan Norge kan bidra til- og kapitalisere på en bærekraftig utvikling i India.
India vil komme gjennom Koronakrisen. Hva er forventet utvikling post-Covid?
Store og viktige norske selskaper er tungt eksponert i India. Flere representerer suksesshistorier. Hvordan har disse selskapene evnet å lykkes i India?
Det grønne skiftet gir Norge nye og unike muligheter for samarbeid med India innen næringsliv, forskning og utdanning. Hvor ligger de største mulighetene for samarbeid?
Hvordan kan indisk kompetanse bidra til norsk teknologiutvikling, innovasjon og eksport?
Medvirkende
Lars Andreas Lunde,
State Secretary, Ministry of Trade, Industry and Fisheries
Jens Frølich Holte
State Secretary, Ministry of Foreign Affairs
Erik Solheim,
Chief mentor Global Alliance for a Sustainable Planet. President Green Belt and Road Institute.
Arne Jan Flølo,
Consul General – Mumbai
Cristian Valdes Carter,
Director of Innovation Norway India. Commercial Counsellor, Royal Norwegian Embassy – New Delhi.
Fridtjof Fossum Unander,
Executive Director Sustainability and the green transition – The Research Council of Norway
Stina Torjesen,
Associate Professor – University of Agder
Karen Landmark,
Chair Of The Board Of Directors – Greenstat Asia
Himanshu Gulati,
Member of Parliament – Progress party

Link to the Arendalsuka website and our event:
https://program.arendalsuka.no/event/user-view/16313